Pellet production line ProPelety 700
/ 1000

/ 1400

/ 2000

Wood

Pellet production line for sawdust or shavings.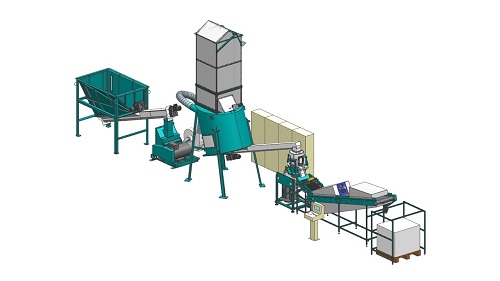 Input material
Sawdust or wood shavings (waste from cutting or planed dry wood). In case of higher humidity, the input material must be dried to the required humidity of max. 14%.
Output product - Pellets
Pellets of diameter from 6 to 14 mm (according to the extrusion die) , 1-3 times as long as the diameter, without any chemical additives, compressed to a high degree
Bulk or in big-bags
Basic technical parameters
Capacity up to 700

/ 1000

/ 1400

/ 2000

kg/hr. - sawdust or wood shavings of hardness up to 35 MPa, at humidity of max.14% (capacity decreases with higher hardness of input material)
Capacity may be different from the nominal capacity, as it depends on particular input material properties and the operator's approach to handling and maintenance of the production line
Rated maximum power usage: 110,9

/ 130,9

/ 169,9

/ 209,9

kW
Operation power usage: about 100 kW per one ton of pellets
Required floor area: 40 m2 (max. height of silo 6,3 m)
Total weight: 8,0

/ 8,1

/ 10,5

/ 10,7

tons
Noise level: up to 80 db
Transport of material between machines in closed dust-free ducts
The line meets all occupational health and safety regulations required for the shop floor
Production line concept and characteristics
Power compact production unit - from raw material delivery to pellets storage, smart design and time balanced performance of all equipment
Automatic control, regulation, plus the possibility of drive diagnostics.
Possibility to use the existing customer's material handling equipment
Full employment of one person in one shift
Not difficult to build , easy to be integrated into the existing infrastructure of agricultural plants – layout on area of 60 m2, low weight of all equipment, power supply up to 120

/ 140

/ 180

/ 220

kW, power input of individual equipments within the range or common wiring, own electrical cabinet
Possibility of modification with respect to existing building layout.
Possibility of design modification to suit individual user requirements.
Basic arrangement of the line
Input hopper with a conveyor
Grinder
Pneumatic transport
Buffer-silo with dust filtration
Dosing equipment - screw conveyor to the press (granulator)
Pellet press (granulator)
Vapour and dust extraction fan
Cleaning vibratory conveyor
Cooling conveyor
Big-bag holder
Control panel and electrical cabinet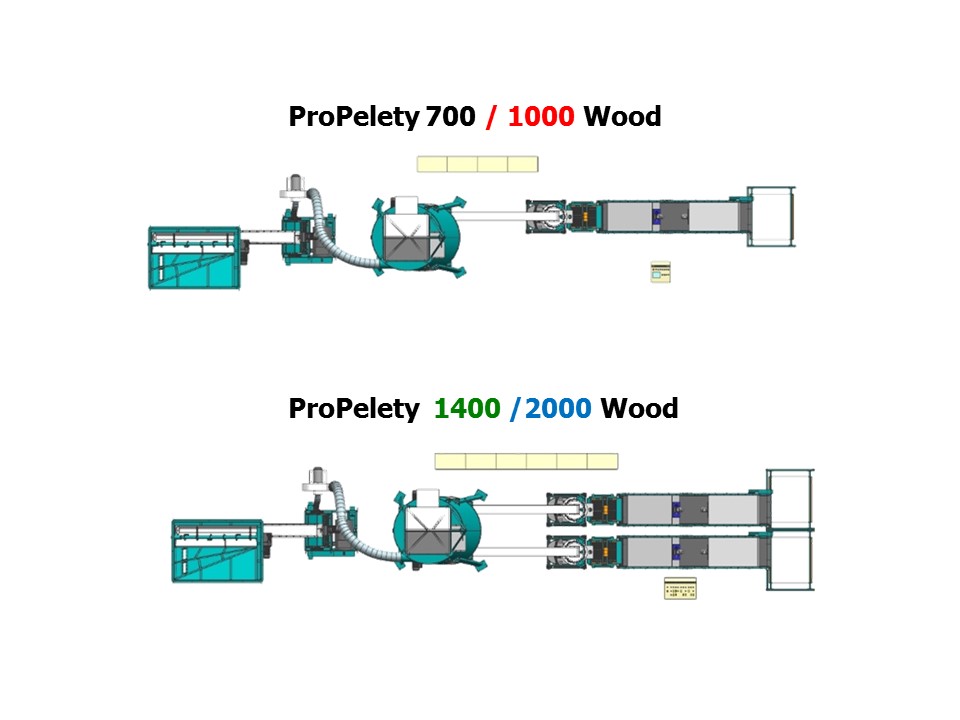 Extra equipment according to customer's specific needs
Conveyors according to particular layout, dryer, mixers for input materials, packaging line, drive-under silos, etc.