Pellet production line ProPelety 700
/ 1000

/ 1400

/ 2000

Agro

Pellet production line for hay or straw.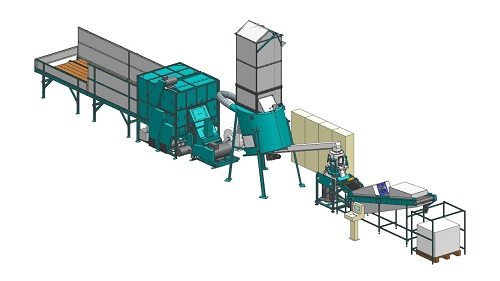 Input material
Input material shape is cylindrical bales of maximum 150 cm in diameter, or square bales of max.150x150 cm cross section. Loose or bulk material can also be used. Maximum humidity of material can be up to 14 %. In case of higher humidity, the production line has to be equipped with a drying section. In basic arrangement of the production line pellets are packed in big volumes – i.e. in big-bags or containers (or optionally loose). Operation of all parts of the line is continuous. All the production line is controlled from one main panel. It is designed to be operated by a single worker, who is also responsible for material handling – bale feeding, replacing big-bags, etc.
Parameters lines
Capacity up to 700

/ 1000

/ 1400

/ 2000

kg/hr. - pre-cut wheat straw at 14% humidity

up to 600

/ 850

/ 1200

/ 1700

kg/hr - hay
up to 500

/ 700

/ 1000

/ 1400

kg/hr - colza

Capacity may be different from the nominal capacity with regards to particular properties of input material and the operator's way of work and approach to maintenance
Rated maximum power input: 125,9

/ 157,9

/ 190,9

/ 226,9

kW
Operation power usage: about 100 kW per one ton of pellets
Required floor area: 60 m2 (max. silo height 6,3 m)
Total weight: 9,5

/ 10

/ 12

/ 13,5

tons
Noise level: about 80 db
Transport of material between machines in closed in dust-free ducts
The line meets all occupational health and safety regulations required for the shop floor
Production line concept and characteristics
Local manufacturing plant intended for mid-size and large scale farmers. The line is able to process approx. 50% of straw production within the range of 5 to 10 km from the plant, in a 1½ working shift operation, operated by 1 worker.
Power compact production unit - from raw material delivery to pellets storage.
Automatic control, regulation, plus the possibility of drive diagnostics.
More use of the existing customer's material handling equipment
Full employment of one person in one shift
Not difficult to build , easy to be integrated into the existing infrastructure of agricultural plants – layout on area of 60 m2, low weight of all equipment, power supply of 130

/ 165

/ 200

/ 235

kW, power input of individual equipments within the range or common wiring, own electrical cabinet
Possibility of modification to suit existing building layouts.
The line meets all occupational health and safety regulations required for the shop floor
Basic arrangement of the line
Input conveyor for loading bales
Separator
Grinder
Air transport into the buffer-silo
Buffer-silo with dust filtration
Dosing equipment - screw conveyor to the press (granulator)
Pellet press (granulator)
Vapour and dust extraction fan
Separating vibratory conveyo
Cooling conveyor
Big-bag holder
Control panel
Electrical cabinets for the line operation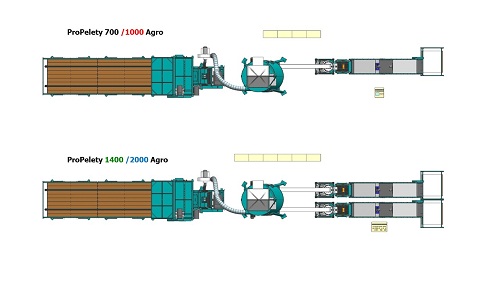 Extra equipment according to customer's specific needs or at customer's request:
Buffer and screw conveyor for additives
Dryer
Conveyor for loose straw, etc.
Production line can be modified for specified purpose and with regards to material used